A little history:
Mérida was founded in 1542 by Montejo y León and was named after the town of "Mérida" in Extremadura, Spain. It was built on the site of the Maya city of T'hó (/d̥'χø'/) (the face of Infinity in Maya), which was also called Ichkanzihóo or Ichcaanzihó (/isʃkan'siχœ/;or, the "City of Five Hills") referencing its pyramids. T'ho had been a center of Mayan culture and activity for centuries: Mérida is believed to be the oldest continually-occupied city in the Americas.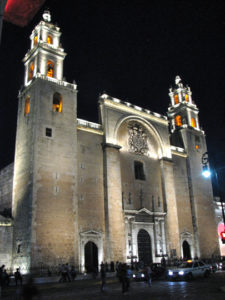 The city, once plundered and ravaged by the Spanish conquerers, was founded and built over the ruins of the old Mayan pyramids.  The white limestones of the demolished city were used to build the new city  of Merida, beginning with the Cathedral of San Idelfonso (1556-1599), the oldest cathedral on the American continent (which is also know as "Merida Catedral.")  Incidentally, the cross in the Cathedral is the largest wooden carving of Christ on the cross in the world (more on the history of the Cathedral on another page.)
M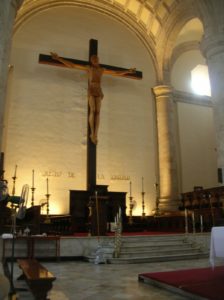 erida came to be known as the White City for several reasons (none of which are because the base of the trees that are painted white!):  the main reason is that the colonial architecture and the buildings of the city were constructed in white limestone.  And this is one of the cleanest cities that you will find on the peninsula as well!  The other reason is that the color of the clothing of the early inhabitants of the city wore white clothing: clean and comfortable in the hot, tropical climate!
Merida is now home to just over a million inhabitants with over 60% having a strong Mayan heritage.  While the language is principally Spanish, it's a decidedly different dialect than other states in Mexico, with a strong Mayan influence.
And, you will find that this is one of the safest cities in Mexico or Latin America!  The crime rate here is very low, the Policia are very diligent in maintaining the low crime rate that is enjoyed here both by the citizens and tourists alike!
In Merida, you will find a rich culture founded on family values, and art steeped in tradition, that shows the lore of the city, the people, and the beauty of the region and of the people!